IJCNN'05
Tutorials
Call for Papers
Org Committee
IJCNN'04
Tutorial Abstracts
Pictures
IJCNN'97
Tech Committee
Program
Abstracts
Favorites
Anywho
TV Set Location
Padgett Computer Innovations (PCI)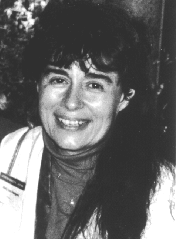 Mary Lou Padgett
at FUZZ-IEEE San Francisco 1993
Life Senior Member
IEEE Atlanta Section
ACTIVITIES:
IEEE Neural Networks Society Awards Committee - Past Chair

IEEE-WCCI 2002 World Congress on Computational Intelligence: Neural Networks, Fuzzy Systems, Evolutionary Computation - Tutorials Chair

IEEE-IAS Annual Meeting 2000 Rome - Mirror Site Webmaster (note site is very old)

Vice Chair IEEE Computer Society Standards Activities Board for Virtual Intelligence, 1996-1997 (download).

Publicity Chair, ICNN97 International Conference on Neural Networks 97, Houston TX.

IEEE Standards Board (NESCOM, NOSCOM, SEMCOM), 1994-96.

IEEE EAB Liaison to Standards, 1996-1997.

Vice Chair, IEEE Neural Network Council Standards Committee, 1992.

Workshop on the Electronic Nose IEEE-NTDC, Co-chair, Atlanta, November 7, 1997

Co-Editor, Proc. SPIE Vol. 2878: ,Sixth, Seventh, and Eighth Workshops on Virtual Intelligence, Acadmic/Industrial/NASA/Defense Technical Interchange and Tutorials. International Conferences on Neural Networks, Fuzzy Systems, Evolutionary Computing, and Virtual Reality. Mary Lou Padgett and Thomas Lindblad, Eds., Sept. 1996.

VI-DYNN 98, Stockholm, June 22-26, 1998

IEEE Transactions on Neural Networks (TNN) Guest Editor
Special Issue on Pulse Coupled Neural Networks,
Volume 10, Issue 3, May 1999
Overview pp 461-463
PCNN models and applications, Johnson, J.L. and Padgett, M. L. pp 480-498.
| | |
| --- | --- |
| | Don Eddins, Attorney at Law, Auburn, Alabama |
| | |
| | |
This page (http://www.mlpadgett.org/index.html) was most recently modified on June 11, 2014 and is maintained by m.padgett(at)ieee.org.